Thank You—-50 Million World Wide Viral Views—-Thank You
Please be patient requesting personal service, because we are a "little" swamped. This website holds answers to all questions if you explore and have fun with FAQS, videos, and our support and training page. You can place a secure order today on the Shop GlideCycle page or visit our
contact us
page.
Introducing the GlideCycle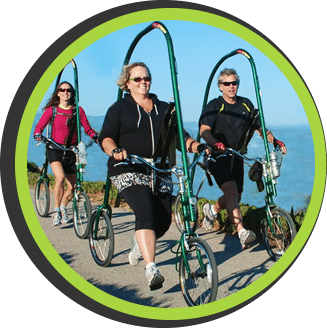 THE ULTIMATE BODY UNWEIGHTED RUNNING BICYCLE
If you want to get fit, lose weight…if you want to run more often, run harder, run further or start running again……….if you want to get out of the gym and run or even walk all day touring without pain…then you need to join the Weightless Running Revolution
GC-X Runner by GlideCycle!
Experience running with the body weight of a child, and the muscle power of an adult!!!
You can bring superhuman speed and endurance your workouts….. Run 5 to 30 miles or more averaging from 5 to 12 minute miles depending on your fitness level.
Take your fitness level to new levels and have fun for hours outside where athletes belong.
What Makes Glide Cycle Unique?
Problem: Gravity
Over 50 million Americans go running each year and 116 million more folks walk outdoors for fitness. Each year up to 70% of these runners will experience an injury needing rehabilitation. 1.5 million of them and countless walkers will quit and head for the gym or the couch for good. Gravity is the root cause, as so many runners and walkers simply can't bear the pounding of 2.4 times their weight in ground reaction force. (BYU Study)
Solution: Weightless Running Revolution
A Brigham Young University sports research study found that, "runners using the GlideCycle experienced an 86% reduction in ground reaction force (GRF)." Our patented suspension system lifts the body by cradling the pelvis (no crotch pressure) into the natural spring arch frame and allows clients to achieve a closer motion to actual running or walking than any other equipment on earth. Running with wheels means running fast, far, and as hard as you want without impact pain.